What is ONDC: Open Network for Digital Commerce is a private non-profit Section 8 company established by the Department for Promotion of Industry and Internal Trade (DPIIT) of Government of India to develop open e-commerce. It was incorporated on 31 December 2021 with initial investment from Quality Council of India and Protean eGov Technologies Limited (formerly NSDL e-Governance Infrastructure Limited). Click here to Join telegram study group →
What is ONDC and how will it work?
ONDC is an open platform for selling and buying goods online. For Example – Right now, if you want to purchase a laptop online, then you need to download Flipkart or Amazon app and then search for laptop there. At present, there are a lot of e-commerce platforms and you need to download their apps individually or visit their websites to purchase goods from them.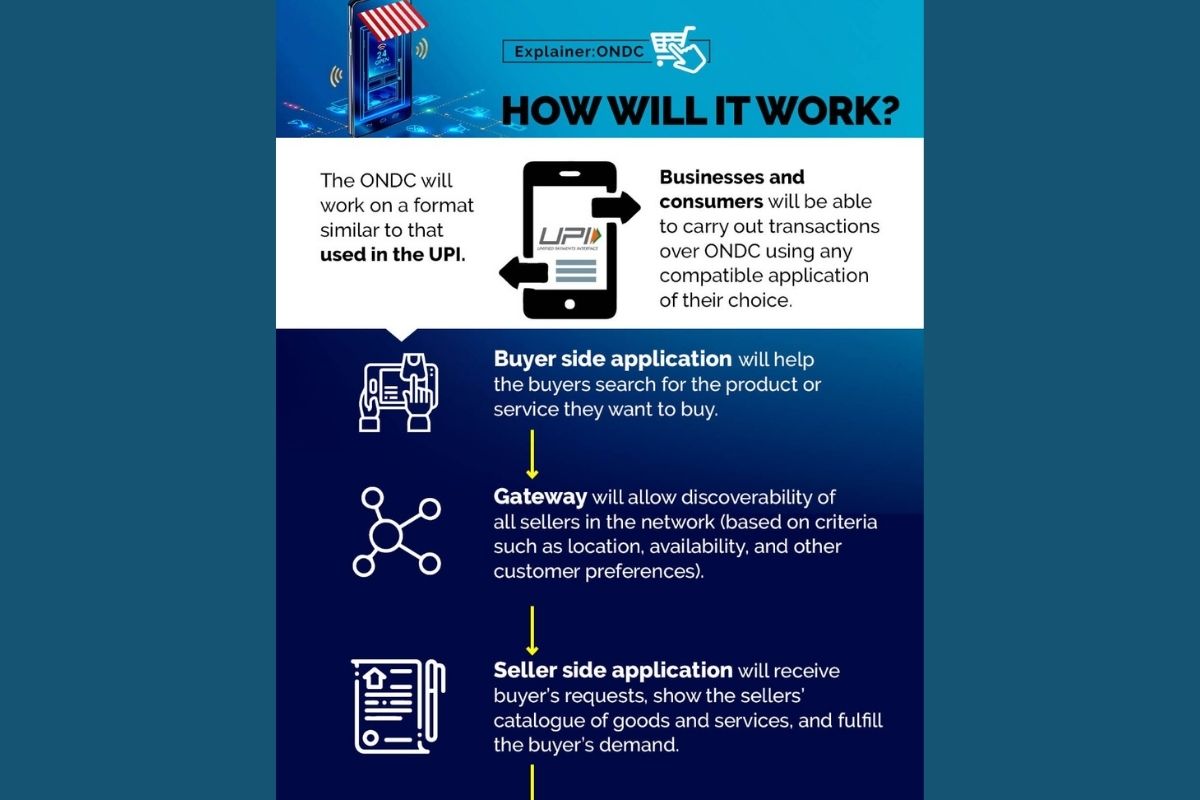 Now, with the concept of ONDC, you need not download several e-commerce apps. You just need to download ONDC app or visit the website and purchase goods from there. In the ONDC concept, several e-commerce companies such as Flipkart and Amazon will list their products there. Now, when you search for laptop on ONDC platform, you will see results from both Flipkart and Amazon and you can purchase from any e-commerce company that you like.
ONDC and UPI Similarity
ONDC is called as UPI of e-commerce. ONDC works similarly as UPI. In case of UPI, you need to download a UPI app such as Paytm. In Paytm, you can link your SBI, PNB account and send or receive money directly. You need not download the apps of SBI and PNB but you can easily transfer money via one single app i.e. Paytm. You can link several bank accounts in one single app.
In the same way, in case of ONDC, various sellers across India will list their products on ONDC platform. For example – Flipkart, Amazon will integrate their website with ONDC. Now, Paytm will also integrate its website with ONDC. You need not download Flipkart or Amazon app for shopping. You can visit the website of Paytm or use mobile app of Paytm and search for laptops. This will show results from various websites such as Flipkart, Amazon, Snapdeal, etc. and you can purchase your laptop from whichever website you like. That's why ONDC is called UPI of e-commerce.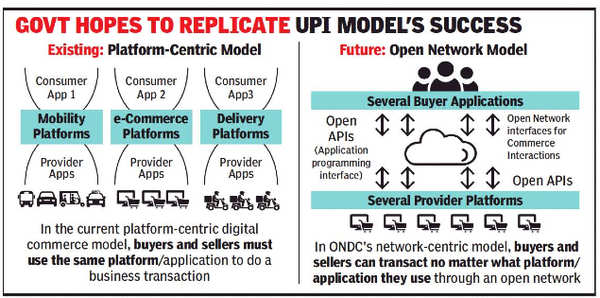 In July 2022, UPI reported 6.28 billion transactions amounting to Rs 10.62 trillion. UPI has emerged as the most preferred payment mode among consumers with a market share of 64% in volume and 50% in terms of value. Thus, the government wants to replicate UPI model in case of e-commerce with the help OF ONDC.
What is the need of ONDC?
The main purpose of ONDC is to end the monopoly of some big e-commerce companies such as Flipkart and Amazon. These companies have become so giant that small businesses can't survive in front of them.
The Indian E-commerce market is expected to grow to US$ 188 billion by 2025 from US$ 46.2 billion as of 2020. By 2030, it is expected to reach US$ 350 billion. India's e-commerce market is expected to reach US$ 111 billion by 2024 and US$ 200 billion by 2026. Thus, India needs to regulate its e-commerce market properly.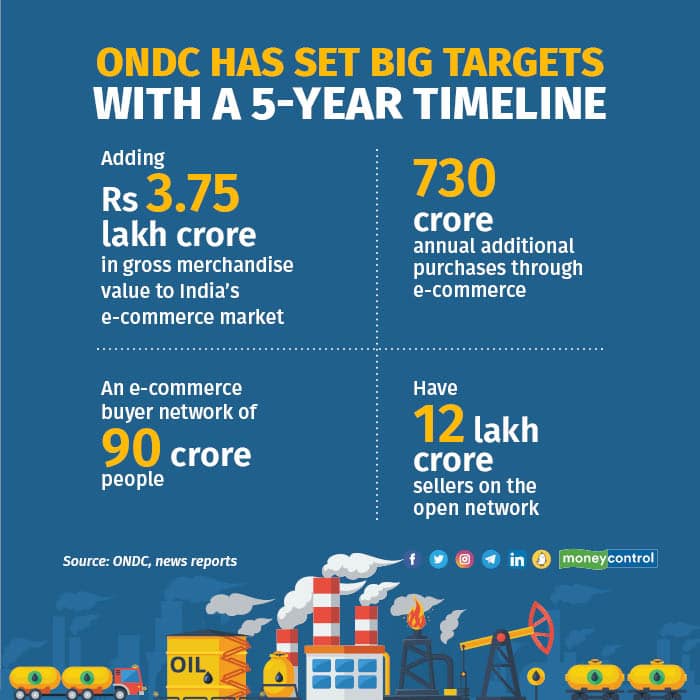 Advantages of ONDC
You need not download several apps. You can shop with only one app.
It will end the monopoly of big e-commerce companies.
It will boost the small and medium businesses.
It will help in regulating the e-commerce market.
Will it be an end to Flipkart and Amazon?
No, it will not be an end to Flipkart and Amazon. For example – You can transfer money from you SBI and PNB account via Paytm but you can also still use the mobile apps of SBI and PNB. These individual apps offer various other features related to banking whereas via Paytm UPI, you can only transfer money.
In the same way, you can use ONDC to purchase items from Flipkart and Amazon but at the same time, you can also use the Flipkart and Amazon app individually.
Investments & Promotion
From November 2021 to March 2022, various public and private sector entities picked up stakes in ONDC by investing seed money. This includes –
Punjab National Bank (9.5% for ₹25 crore)
State Bank of India (7.84% for ₹10 crore)
Axis Bank (7.84%)
Kotak Mahindra Bank (7.84%)
HDFC Bank (7.84%)
BSE Investments (5.88%)
Central Depository Services (6.78%)
ICICI Bank (5.97% for ₹10 crore)
Small Industries Development Bank of India (7.84% for ₹10 crore)
National Payment Corporation of India (NPCI) and National Stock Exchange of India (NSE) committed funding for ONDC as promoters. As of July 2022, more than 20 organisations have committed investment ₹255 crore (US$32 million) into the project such as UCO Bank, HDFC Bank. Bank of Baroda etc.
In April, ONDC had received ₹157.5 crore for first stage of the project from 17 banks and financial institutions. On 9 August 2022, SIDBI signed memorandum of understanding (MoU) with ONDC to bring small industries on the network. On 23 March 2022, Common Service Centres (CSC) under Ministry of Electronics and Information Technology (MeitY) announced that it will promote ONDC for ecommerce and logictics in rural areas through 3 Lakh Grameen e-Stores.
Important PDFs
Related Articles