Recently, the Geological Survey of India (GSI) said that Bihar has India's largest gold reserve. A survey by the Geological Survey of India has stated that gold reserve of around 222.88 million tonnes including 27.6 tonnes of mineral-rich ore are present in Jamui district of Bihar.
The Nitish Kumar government in Bihar has now decided to give permission for the exploration of India's largest gold reserve.
The state Mines and Geology Department is in consultation with agencies engaged in exploration, including GSI and the National Mineral Development Corporation (NMDC), for exploration of gold reserves in Jamui.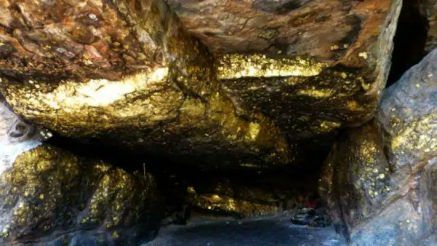 The consultation process had started after analysing the survey findings which indicated the presence of gold in areas such as Karmatia, Jhajha and Sono in Jamui district.
The Bihar government is likely to sign a memorandum of understanding with a central agency or agencies for G3 (preliminary) stage exploration within a month's time, adding that in certain areas G2 (general) exploration can also be carried out.
Last year, union minister of mines Pralhad Joshi had told Lok Sabha that Bihar has the highest share of India's gold reserves. In a written reply, he had said that Bihar has 222.885 million tonnes of gold metal, which amounts to 44 per cent of the total gold reserves in the country.
As per the National Mineral Inventory, the total resources of primary gold ore in the country as on 1.4.2015 are estimated at 501.83 million tonnes with 654.74 tonnes of gold metal. Out of this, Bihar is endowed with 222.885 million tonnes (44 per cent) of ore containing 37.6 tonnes of metal.
Gold Reserves India: Latest News
As at end-March 2022, the Reserve Bank held 760.42 tonnes of gold, including gold deposits of 11.08 tonnes. While 453.52 tonnes of gold is held overseas in safe custody with the Bank of England and the Bank of International Settlements (BIS), 295.82 tonnes of gold is held domestically.
In value terms (dollar), the share of gold in the total foreign exchange reserves increased from about 5.88 per cent as at end-September 2021 to about 7.01 per cent as at end-March 2022 – which is close to the 2014 levels.
Which country has highest gold reserves?
The United States has the largest gold reserve with more than 8,000 metric tons of gold and stands at the first spot. It accounts for 79% of total reserves.
Gold Producing States in India
In India, the largest resources of gold ore (primary) are located in Bihar (44%) followed by Rajasthan (25%), Karnataka (21%), West Bengal (3%), Andhra Pradesh (3% ), Jharkhand (2 %). The remaining 2% resources of ore are situated in Chhattisgarh, Madhya Pradesh, Kerala, Maharashtra, and Tamil Nadu.