The Gyanvapi Mosque dispute is much like the Ayodhya Temple-Mosque issue, which was resolved in 2019.
What is The Gyanvapi Mosque?
The Gyanvapi Mosque is located in Banaras, Uttar Pradesh, India. It was constructed on the site of an older Shiva temple which had been demolished by Aurangzeb in 1669. The name of the mosque is derived from an adjoining well, the Gyan Vapi ("Well of Knowledge"). Legends hold that Shiva had dug it himself to cool the lingam.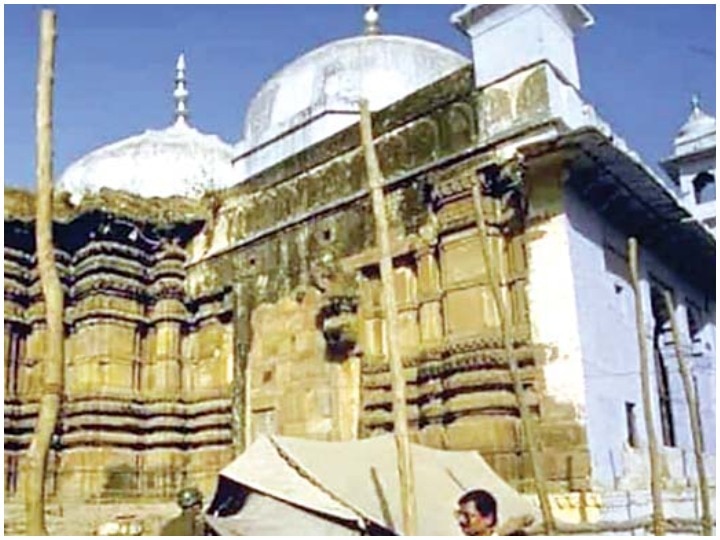 Demolition of Gyanvapi Mosque
The site originally had a Vishweshwar temple, established by Todar Mal in conjunction with Narayana Bhatta – the head of Banaras's most-famous Brahmin family – sometime around late sixteenth century.
Vir Singh Deo Bundela, a close associate of Jahangir, was a probable patron in the early seventeenth century and refurbished the temple to some extent.
The original wall of the now demolished temple still stands in the mosque. Sometime around 1669, Aurangzeb ordered the demolition of the temple and commissioned the construction of Gyan Vapi mosque, in its place.
Gyanvapi Mosque Dispute
In 1991, a bunch of petitioners filed the case in the court contending that the mosque was built by the Mughal emperor Aurangzeb after demolishing a temple in 1669.
They demand that the mosque be removed, and the land be given to the Hindus. The matter remained in abeyance till now. In 2019, an advocate approached the Allahabad High Court demanding that the complex be surveyed by the Archeological Survey of India.
Last April, five people petitioned that they should be allowed to perform daily darshan, pooja and other rituals of Maa Shringar Gauri and other deities within the old temple complex. A civil judge had appointed the commissioner Ajay Mishra for the same.
The litigants claimed about the existence of an image of the Goddess on the western wall of the mosque situated adjacent to the Kashi Vishwanath temple. They demanded that the caretakers of the mosques allow daily darshan, prayer, aarti, bhog and other rituals without any restrictions, obstacle and hindrance.
Now, the varanasi court has ordered that the video inspection should be completed by May 17. Anjuman Intezamia Mosque Committee said that the commissioner was biased but the court refused to remove Court commissioner Ajay Mishra and ordered that the video inspection of the Gyanvapi mosque, located next to the Kashi Vishwanath temple, will continue.